Are Google, Siri, and Alexa Making Answers Too Easy?
By Beth Demme
I'm smart, but I don't know everything.
Think about the smartest person you know. Guess what? They don't know everything either.
This is one of those plain and obvious truths that still needs to be said. More and more these days I find I need to say it to myself.
I am in a technology-loving family. We have our smartphones, multiple computers and lots of fun gadgets.
On our iPhones we can track each other with the Find My Friends app. As my children enter their teens, this is really handy! It's also fun. Here's a screenshot of what it looked like when we were in Italy:
If I need to know where someone in my family is, I can ask: "Siri, where is my daughter?" If Siri is working properly (for me, that's about 40% of the time) the Find My Friends app will open and show my daughter's photo on a map.
We also have an Amazon Alexa. Alexa, like Siri on the iPhone, can answer questions. You ask your question as you would when talking to a person and she gives you an answer (usually).
Recently my son was baking a new recipe. The website he pulled it from used the metric system, leaving us without the slightest idea how much flour to use. The solution? Alexa!
Me: "Alexa. How many grams are in an ounce?"
Alexa: "There are 27.5 grams in an ounce."
Me: "Ummmm. Alexa, how many ounces are in 200 grams?"
Alexa: "There are 7.05479 ounces in 200 grams."
Luckily, we have a cooking scale. My son measured out seven ounces of flour and his chocolate banana bread was delicious!
Without Siri or Alexa, we still have Google. How many times have you had a question and thought, "I should Google that"?
Being able to blurt out a question to a machine and receive an instant answer is gratifying, but it might be messing with my theology. It gives the illusion there is an answer for every question.
Even Alexa, Siri, and Google don't know everything.
Trying to formulate an explanation for the unexplainable has gotten the church in a lot of trouble over the years. There are many theories about why church membership and attendance are declining. I don't know all of the answers (hence this blog post), but I think part of the problem is the way the church has set itself up to be a source of answers.
Instead of offering answers like Google, Siri, or Alexa, I think the church does better when it offers relationship.
Giving people answers that try to tie life's problems up with a pretty bow leads us to platitudes like "God won't give you more than you can handle" and "everything happens for a reason."
What if God does give me more than I can handle? What if everything doesn't happen for a reason?
While I agree that God will be with me in the good times and the bad, the Bible never says God won't give me more than I can handle. In fact, in 2 Corinthians 1:8, Paul and Timothy describe being "so utterly, unbearably crushed" they "despaired of life itself." Why did this happen to them? They felt it was an opportunity to learn to "rely not on ourselves but on God." (2 Corinthians 1:9 (NRSV))
Although I haven't experienced the same tribulations Paul and Timothy faced, I can relate to how they felt. As a self-sufficient person, I have a tendency to try to do things independently, rather than relying on God. When I experienced more than I could handle, I found God in a new way.
Similarly, I'm not sure everything happens for a reason. I think God can bring good out of any situation, no matter how dark or evil, but that's not quite the same as saying God makes it all happen "for a reason."
I love to ask theological questions, but they rarely lead to answers.
Maybe that's because answers aren't the point.
The best advice I've received from pastors wasn't a quick fix answer or a banality. Instead, it was advice that pointed me back to relationship with God.
Cast all your anxiety on God because God cares for you. —1 Peter 5:7

Jesus did not come to explain away suffering or remove it. He came to fill it with His Presence. — Paul Claudel
In a world where Siri can track my children and Alexa can answer my math questions, it's tempting to think every question has an answer. However, God is bigger than our answers. Siri agrees: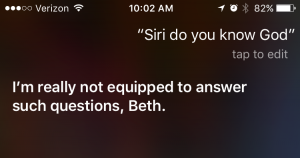 What do you think? Do you like to ask questions? How do you feel when there isn't a definitive answer? Do you think technology makes answers seem more accessible? Tell me about it in the comments, in an e-mail, or on Facebook.
---
More Like This From Beth: