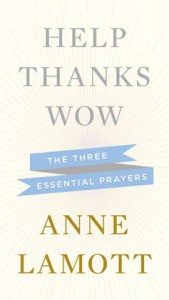 Anne Lamott: "We pray without knowing much about whom we are praying to. We pray not really knowing what to pray for…. I pray not to be such a whiny, self-obsessed baby, and give thanks that I am not quite as bad as I used to be (talk about miracles)."
I first learned of Anne Lamott years ago, when my oldest was a toddler. Something about her style was almost more honest than I could handle! I delayed reading her until I was scheduled to attend a conference where she would be speaking. I'm so glad I tried again. This little book is a powerful, and personal, treatise on the impact prayer can have. It's about being honest with ourselves when we talk to God and how that can open the door to self-discovery as it opens the door to God's love.
The printing quality of this book is also unique. It makes a great gift. It has a deckle edge, navy blue ink (instead of black), and a nice overall weight to it.