By Beth Demme
Sometimes I make prayer seem complicated. I think about my frame of my mind, my vocabulary, my setting, my intention, etc. The truth is, prayer is so simple a child can do it.
When I was growing up, we took turns saying the prayer before dinner. Well, as I remember it, we did it that way for many years and then I hit a bit of a bossy phase and, um, well, I guess I kind of took over.
I'm the youngest of four, spoiled by my parents and my super-awesome older siblings. At first they probably thought it was cute that I wanted to say grace every night. Years later, after my family had patiently listened to me offer nearly every dinner prayer, I suggested (wisely, I thought) that we could take turns. They all laughed and said, "like we used to, before you took over?"
Oops. Did I do that?
(via GIPHY)
Praying is so easy a child can do it, but is it the kind of thing a machine can do?
In conjunction with Certus Knowledge, I've just released a new "skill" for Amazon Echo called The Prayer Book. An Amazon Echo is an electronic device that uses a voice interface. There is no keyboard or touch screen, it is completely voice activated.
The Prayer Book will eventually recite prayers for many situations, but currently it allows the Echo (also called Alexa) to say grace. For example, if (once you activate the skill) you say, "Alexa, ask the prayer book to bless this meal," she might respond: "Meats and veggies, fruits and more, please know dear God we thank you so. Amen." Or, "God, please shine your light and love upon us and through us. We thank you for this meal and for all the many blessings of this day. Amen."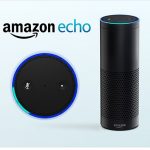 In a way, we taught Alexa to pray. But what makes prayer … prayer?
It isn't the number of words.
Author Margaret Feinberg once suggested we offer God shorter prayers. Very short. Only three words. This exercise has stayed with me since I first read about it a few years ago. Some of the three word prayers I rely on are:
Help me, Lord.
Hear me, please.
Love me, God.
Grant me perspective.
Give me strength.
You are God.
Líbrame de mí. (Spanish for "Free me from myself")
Use me Lord.
Forgive me Father.
Order my days.
Show me how.
Lead me now.
It also isn't the words themselves that make a prayer.
Sometimes it is hard to know what or how to pray. When words fail, I take comfort in Romans 8:26, "the Spirit helps us in our weakness; for we do not know how to pray as we ought, but that very Spirit intercedes with sighs too deep for words."
When words fail me, the Holy Spirit sighs on my behalf, conveying more than I can comprehend. I imagine the Holy Spirit taking in a deep breath of my fear, anxiety, and grief and then exhaling a deep, deep sigh, enveloping me with God's peace.
I have found that even when life is hard, I can still offer up a quick "thank you Lord for this food." Perhaps it's because those are the first prayers I learned to pray or maybe something about food makes praying feel safe. Sharing a meal breaks down barriers between people and maybe it breaks down barriers between us and God, too. After all, that's what Communion is, isn't it?
Maybe technology can break down another barrier.
For those who don't know what to say in prayer and who aren't likely to turn to the Psalms or buy a Book of Common Prayer, maybe the Alexa Prayer Book can demonstrate for them how uncomplicated prayer can be.
A machine can say words that sound like a prayer. My husband and I have taught Alexa that much, but, of course, prayer is more than words. Prayer is a heart communication with God.
My prayer for The Prayer Book Skill is that someone might invite Alexa to pray, but as they hear the words she says, God will use that moment to offer them transformation. A machine can pray, but only God can transform us. Maybe Alexa can be another platform for opening a window to the heart, offering people the truth that God loves them.
What do you think? Can a machine pray? Is it an idea that brings you excitement or discomfort? Tell me about it in the comments, in an e-mail, or on Facebook.
---
More Like This From Beth: