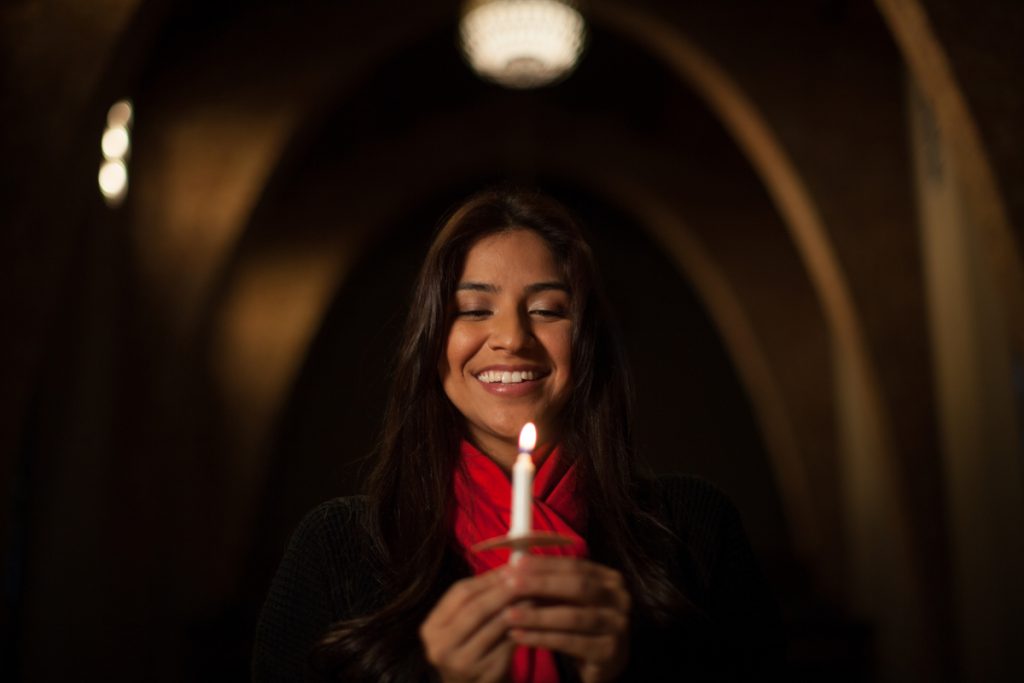 To Follow Mary's Example This Advent, We Have to Know God
Or: Why Mary is Better than Moses and Paul
By Beth Demme
The Virgin Mary is often extolled as an example of a willing servant, especially this time of year. It is true, Mary is the ultimate example of what can happen when one woman says yes to God, but it's important to remember her "yes" was possible only because she knew God.
Mary was able to say "yes" to God because she knew God.
In her song, the Magnificat (Luke 1:47‑55), Mary describes God as:
Savior (v. 47)
Mighty (v. 49)
Holy (v. 49)
Merciful (v. 50)
Strong (v. 51)
Promise keeper (vv. 54-55)
God asks Mary to do something impossible, but instead of focusing on the task, Mary leans into what she knows about God and responds, "Here am I, the servant of the Lord." (Luke 1:38)
When Moses was given a seemingly impossible task by God, he responded very differently. Moses did not say, "Here am I, the servant of the Lord." Instead, Moses said, "Who am I that I should go to Pharaoh, and bring the Israelites out of Egypt?" (Exodus 3:11) God reassured Moses saying, "I will be with you." (Exodus 3:12) Moses, however, remained unconvinced and asked God, but who are you? (Exodus 3:13)
Unlike Moses, Mary never has to ask who God is. Mary knows God.
Even Saul, at his moment of conversion, had to ask who God was. On the road to Damascus, "a light from heaven flashed around him" and "he heard a voice saying to him, 'Saul, Saul, why do you persecute me?'" (Acts 9:3-4) Saul did not respond like Mary. Saul did not say "Here am I, the servant of the Lord." Instead, Saul responded, "Who are you?'" (Acts 9:5)
Unlike Paul, Mary never has to ask who God is.
Mary was able to say yes because she knew God as her mighty, holy, merciful, strong, promise-keeping savior.  Mary said yes to God because she knew the truth of Gabriel's claim that "nothing is impossible for God." (Luke 1:37)
Perhaps Moses and Paul (and other biblical examples we don't have space to explore), had to pause and ask God to identify himself because God was acting so unexpectedly. And yet, Mary experienced first-hand how God shows up in unexpected, counter-cultural, ways. Gabriel called Mary "favored one," but Mary says God "hath regarded the low estate of his handmaiden." (Luke 1:48 KJV)
Mary also knew God as a God of social change, saying: "He has brought down the powerful from their thrones, and lifted up the lowly; he has filled the hungry with good things, and sent the rich away empty." (Luke 1:51-53)
As an aside, I wonder if Mary sang her song to Jesus when he was a boy. Perhaps her song taught him something about the importance of lifting the lowly and feeding the hungry. If so, maybe we see echoes of her words in the Sermon on the Mount when Jesus says, "Blessed are the poor in spirit, for theirs is the kingdom of heaven. … Blessed are the meek, for they will inherit the earth. Blessed are those who hunger and thirst for righteousness, for they will be filled." (Matthew 5:3,5-6)
Mary was a woman who knew God. Her knowledge of God allowed her to trust God. Her knowledge and trust emboldened her to say yes to an unpredictable life with God.
The story of Mary prompts me to reflect on how I have responded to God.
I have experienced God in the midst of impossible situations. God's love has swaddled me when I didn't love myself. God has shown me the beautiful freedom of redemption, mercy, and grace.
I pray that I, like Mary, lean into what I know about God and always respond, "Here I am, the servant of the Lord; let it be with me according to your word."
What about you? What do you know about God? Are you open to living like a servant or does that sound like something other people should do? Tell me about it in the comments, in an e-mail, or on Facebook.
---
More Like This From Beth: