Bible 100 Lenten Edition Summary 7
This Lent we went through the entire Bible, Bible 100 style. In other words, we're developing an overview of the entire collection of 66 books. Here's a summary of what we covered this week. If any of this sparks your curiosity, I hope you will watch the short videos I recorded through Facebook Live (each

 takes you to a video). Of course, you can always turn to the Bible to learn even more!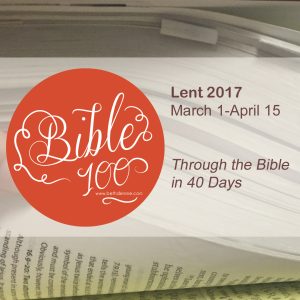 Lessons 37-40
 Lesson 37: Paul's Letters to People
Paul wrote 9 letters to churches and 4 letters to people. (Although the authorship of many of these letters is disputed, we set that aside for Bible 100 purposes because we want to start by knowing what the books say.)
 Lesson 39: The Catholic Epistles
"Catholic" meaning universal. These letters are written to the church in general, not to a specific group of believers.
---
Thank you for joining us for the Bible 100 Lenten Journey. If you would like information on having Beth come for a Bible 100 Live Event, please click here. To access the videos, click here. To contact Beth directly, click here.