Have you ever been given the keys to something? My husband and I recently gave our daughter the keys to her first car. The joy (and terror) of that moment will be with me for a long time!
Maybe you remember getting the keys to your first car? Your first apartment? Or maybe you remember the first time you worked a job that came with an office or building key. Perhaps you're fancy like Homer Simpson and you've been given "the key to the city."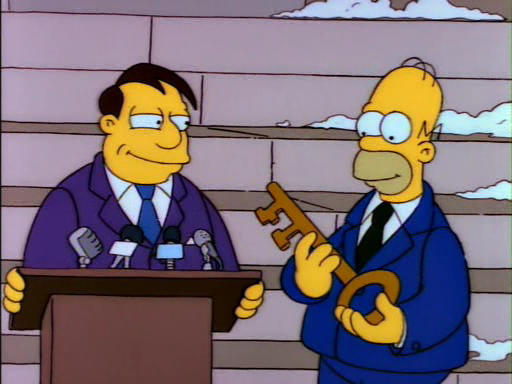 In Matthew 16, after Peter declares that Jesus is the Messiah, Jesus tells Peter, "I will give you the keys of the kingdom of heaven" (Matthew 16:19). Jesus says Peter is the rock on which the church will be built and "and whatever you bind on earth will be bound in heaven, and whatever you loose on earth will be loosed in heaven" (Matthew 16:18-19).
Although Jesus didn't hand Peter an actual set of physical keys, this verse has been the basis for way too many jokes about St. Peter acting like a bouncer at the Pearly Gates. (If you have a favorite, share it in the comments or shoot me an email.) Instead of Peter being a bouncer, it's more like he's integral to the work God is doing.
The Gospels present "the kingdom of heaven" as something God is doing. (See, e.g.,  Matthew 13.)
Similarly, Peter's understanding and announcement that Jesus is the Messiah is something God has done.
Jesus says in verse 17, "Blessed are you, Simon son of Jonah! For flesh and blood has not revealed this to you, but my Father in heaven." In other words, Peter did not come up with this understanding on his own. Peter is able to declare that Jesus is the Messiah because God has revealed this truth to him.
There is a lot of deep, important theological thinking grounded in this passage. One of the takeaways is that Peter was fully himself—the one to whom Jesus gave the keys of the kingdom of heaven—when God was working through him.
It leads me to ask myself: when God is working through me, and I am fully myself, what keys might I be given? What new thing might God want me to unlock?
What about you? What keys might you be given? What new thing might you unlock? Tell me about it in the comments, in an e-mail, or on Facebook.
---
More like this from Beth: