This was originally published in July 2016, but in the wake of the mass shooting in Las Vegas, earthquakes in Mexico, violence in Catalonia, and devastation in Puerto Rico, I offer it again.
Why Prayer is (Still) More Than a Hashtag
By Beth Demme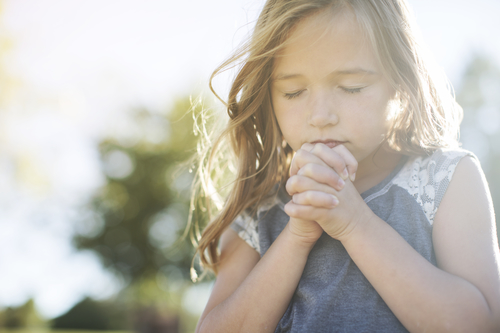 In the wake of recent tragedies, I've seen a lot of #Prayfor____. I've seen the hashtags criticized, too.
I get it. It's not enough to pray for something if prayer is a way of avoiding responsibility or giving only lip service. It's not enough to pray if you expect God to change a mindset or fix a problem without getting you personally involved. I agree, in those cases, #Prayfor____ rings hollow.
But I also see that we #Prayfor____ because we are crying out to the God who is Love. (1 John 4:8) 
 We acknowledge how much we need God to help us through this maddening, confusing, scary time.
Sometimes I pray because I don't know what else to do, but I believe God does. 
 It might sound crazy or naïve to you, but I believe God interacts in this world, and that makes #Prayfor____ meaningful, even powerful.
Each time I pray, important things happen within me.
First, I get to experience what I affectionately describe as my sixth sense – a sense of peace that can come only from the wholeness and goodness of God. Second, and I say this a lot, I am reminded that I am not God.
Although I don't actually think I am God, there are times my actions suggest otherwise. Sometimes I act like I'm in charge, of everyone and everything. Sometimes I talk as if I am responsible for the choices and decisions other people make. Worse, I sometimes get stuck in my own self-sufficiency; I think and speak as if I don't need God.
The only one who doesn't need God is God, and I'm not clear on how that works theologically.
Even a quick prayer before a meal reinforces my non-god-ness. It's an opportunity to acknowledge that while I bought the groceries and cooked the food myself, God still had a lot to do with the creation of the meal (weather, nature, etc.) and with me having a place to prepare and eat it.